Over 600 Pounds of Marijuana Seized in Yakima County
Posted:
Updated: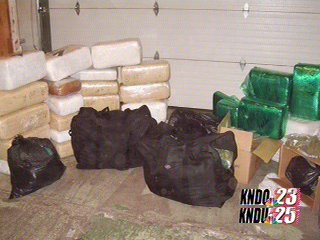 YAKIMA, Wash - Five suspects are in custody after authorities seize over 600 pounds of marijuana from two Yakima County homes.
Early Tuesday morning, members of the County and City Narcotics Unit, DEA and Yakima Swat Team raided one home in Yakima and the other near Selah. Between the two homes, 606 pounds of marijuana were collected. According to a probable cause document, most of the drugs were wrapped in plastic and stored in hockey bags. Digital scales and other packaging were also found.
One of the homes involved is 2609 Fairbanks Avenue in Yakima, where 156 pounds of the drug were taken along with a loaded handgun. Three adults and three children were home. One of the suspects at the home says someone by the name of "Javi" dropped off the drugs and the handgun eight days ago and was paying him $2,000 to live in the house and watch over the drugs.
"The good effect this really has is that the dealers are on notice. If they are doing this kind of thing it's going to get our attention. Maybe not right away but sooner or later we will come knocking on their door", says Captain Greg Copeland of the Yakima Police Department.
The other home authorities seized marijuana was from was house number 55 on Foster Lane near Selah. Here, 450 pounds of marijuana were found and two people arrested. Authorities say they had been watching these homes for several months.
The five suspects will appear in Yakima superior court tomorrow.