Lawmakers Say Tri-Cities will see changes after 2008 Session
Posted:
Updated: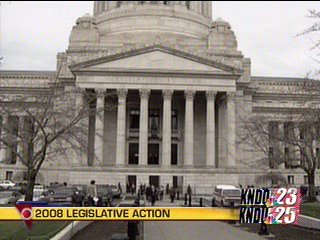 OLYMPIA, Wash.- Tri-City lawmakers say after years of fighting, they're finally getting some of the things they want in Olympia.
Lawmakers from this area say the huge Democratic majority is still preventing them from getting some things done, but nonetheless, they're optimistic some new ideas they've been fighting for for years will finally get through.
A fading sign at the site of the new Benton City Food Bank is a symbol of how long this fight's been going on. Now, it may finally be over.
"They'll have a permanent spot, and it will be a nice clean, organized sport for them, so we're really excited about that," said Rep. Shirley Hankins, a Republican from Richland.
The state House's latest budget includes another $150,000 for the food bank, upping their total funding to $350,000, enough to break ground.
A new food bank isn't the only thing getting done.
Lawmakers are reviving an effort to build a new interchange along a stretch of Interstate 82 near West Richland, and a bill extending tax breaks to certain Hanford contractors seems to be finding new life in the Senate.
"Feel pretty confident that we'll get that. It's been pared down to $900,000 a year, so you know the state can absorb that," said Richland Republican Senator Jerome Delvin.
But a bill giving tribal police unprecedented jurisdiction off of tribal land is drawing controversy.
"Hopefully it'll get amended in the senate, where it, where we won't have this unlimited power that the tribal police we now gave them in the house," Richland Rep. Larry Haler (R) said.
Lawmakers warn the budgets are only preliminary. The Governor has final approval.
"Nothing is ever over until we leave Olympia," Senator Delvin said.
Lawmakers KNDU talked with say they're surprised at the amount of budget issues that have come up in this year's short, 60 day session, partly because it is an election year.