Emergencies in Rural Area
Posted:
Updated: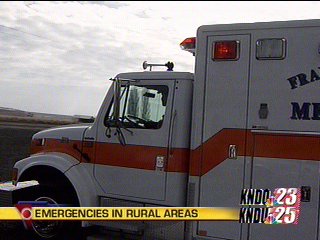 FRANKLIN COUNTY, Wash. -- When there is an emergency in North Franklin County, volunteer EMTs drop what they are doing and rush to the scene.
Many of the volunteers I talked to have day jobs working on farms. But they say, their desire to help others and be a positive part in the community keeps them volunteering as EMTs.
Normally, North Franklin County is pretty quiet, but in an emergency, volunteers like at Ambulance District Number 1, drive to the station, run to the ambulance, and take off.

EMT Lori Hayles says, "We do the best we can and use all the resources that are possible."

Some volunteers even go directly to the scene to save valuable time. In a rural area like North Franklin County, emergency service is personal, the volunteers know each other and the community they serve very well.
EMT Kari Rickenbach says, "I think it's a neat community. We're close, it's neat."

Joan Zimmer grew up in the area, and she says especially when her Dad needed it the most, Franklin County EMTs were fast and effective, but also compassionate and caring.

EMT Sandra Hanses says they are glad that they can help out families like Joan's. She says, "It brings a huge satisfaction to volunteering. You always want and need to help other people."
Franklin County Hospital District One is at Merrill's Corner but there are also stations in Basin City, Mesa, and Connell. And EMTs say all of them work together to serve the community.