Yakima NAACP holds meeting in the wake of young man's murder
Posted:
Updated: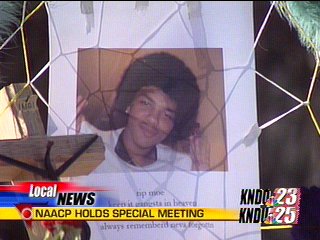 Yakima, WA - The Yakima NAACP calls a special meeting in response to a senseless shooting earliest this week that took a young man's life.
NAACP leaders expressed concerns about possible retaliation.
Concerned parents and community members, as well as a representative from the Yakima Police Department were in attendance.
But one voice spoke the loudest...
Urging everyone to stop the violence and use this incident to make a positive difference.
"There's a picture of Mor'deice in my wallet," Marlo Adams said, holding back tears as he talks to people at the meeting this afternoon at the Southeast Community Center.
Marlo Adams has traveled more than two thousand miles to bury his son.
18-year-old Mor'deice Adams gunned down outside this home at 312 North Seventh Street in Yakima early Monday morning.
Police say Adams wasn't a gang member and his family says all he did was open the door.
"Right after this happened, we got so many calls that there's gonna be retaliation," said James Parks of the NAACP, "Kids not going to school."
Parks wasted no time putting this meeting together to get people talking about positive change.
"We need to get part of that money for our community bottom line," one person said, expressing frustration over the need for more help.
"Anybody got a so called right to retaliate, it's me," Adams said, "But I'm responding with love."
Mor'deice Adams was only three-years-old when his father was sent away to prison for 12 years.
They had spent the last three years rebuilding their relationship.
Now Marlo Adams wants his son's death to help heal the community.
"The change from my son's death... is gonna be a dynamo," Adams said.
The search for the three suspects continues.
Yakima Police say that right now they don't have any new information on who is responsible for Mor'deice Adams' death.