Parts of a cow prompt police search for body
Posted:
Updated: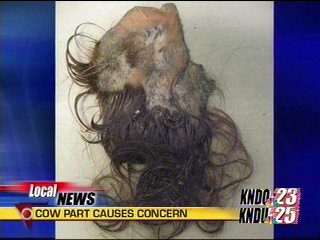 PASCO, Wash. - What was initially thought to be a human scalp turned out to be a part of a cow.
The police came under criticism after their extensive search for a possible body. On Friday they explained why they conducted the investigation and revealed a picture of the piece of the cow that was found.
On February 3rd a dog picked up the cow part and brought it home to it's owner in East Pasco.
Police thought it could have been a human scalp because of the long hair attached to it. They said it had gray strands in it and it appeared to be dyed red with visible roots.
Pasco Police reported that scientists from the Washington State Crime Lab, the Franklin County Coroner, Police and homicide experts from the Attorney's General Office all agreed it looked human.
Police searched the area for a body.
Jamie Raebel was the lead detective in the case. Raebel said, "Looking back, there's nothing that I could have done differently .... It took a scientist to determine that it was not of human origin."
Raebel said a lot of thought and opinions went into deciding how to handle this unusual situation.
It took five days for the test results to come back. Raebel said that if it had been a human scalp and police didn't conduct an in depth investigation a lot of evidence would have been lost.
He said it completely looked like a human scalp.