Davis High School Hosts Recycle-A-Thon
Posted:
Updated: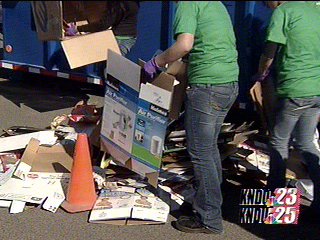 YAKIMA, Wash. -- A group of students at Davis High School spent the day helping make Yakima a greener community.
The leadership class there performs a community service project each trimester and this time it was recycling.
They have been planning this since December and they had a huge turnout today.
Eloise Lopez leads the class in this project. She says, "60-70% of your garbage is recyclable and people only recycle about 10%."
Once they heard that statistic they knew what they had to do.
It was time to start picking up the slack. They began planning a Recycle-A-Thon where people could drive up and drop of their aluminum, plastic, and cardboard items, and today the people came flooding in.
"We have seen a lot of people that have brought a lot of stuff. Our expectations weren't that high and with the help of the community, cause you know we advertised and got out there, and people actually listened, said Lopez"
The class estimates at least 100 people came to drop off their recyclables.
They say they can't believe how big the event became.
Lopez added, "It first started out as a newspaper donation and we collaborated with the rest of our group and it just spiraled into this huge recycling event."
The crowds that came were happy the kids put this on, and say they would like to see more things like this in the future.
"I would. I know the place I go to in West Valley its like one of the few. We need more locations to unload," said recycler Arla Schell.
The kids finally had to block off the entrance because they just had no more room or time to take in any more recycling.