School Districts getting rid of recalled beef
Posted:
Updated: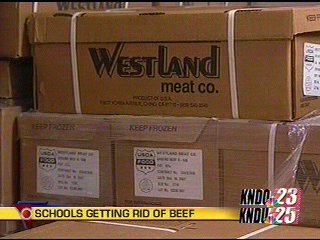 After the largest beef recall in history school districts in the area were concerned about getting rid of the recalled meat.
As of Monday all of the school districts have gotten rid of the beef or are in the process, it has all been sent to landfills under the strict watch of the USDA.
The Richland School District had 236 cases of beef to get rid of, that totaled more than 4,000 pounds. The Pasco School District had even more and Kennewick had a fair amount too. Some school districts even had beef and weren't sure if it was affected by the recall but got rid of it anyway.
All of the beef from Richland and Kennewick went sent to the landfill in Richland. Pasco's recalled beef is in route to the landfill in Roosevelt.

Marry Eggebraten, supervisor for the Richland School District's Food Services, says they were given the opportunity to incinerate it, to take it to a rendering company to be used for non food use or take it to a landfill.
The schools followed strict guidelines from the ASDA when it came to disposing of the beef and are happy to say that there were no reports of illness from the meat that had already been eaten. They feel the problem has been completely taken care of.
Eggebraten says the USDA assure them that the food, all the beef, they have is safe and it wasn't a part of the recall so they feel very secure with the beef they are serving.
Disposing of the beef did cost the schools some money and they said depending on how much beef they had it cost them a couple of thousand dollars. But they were told they will be reimbursed by the USDA.