Eluding Bill Moves Forward to Senate
Posted:
Updated: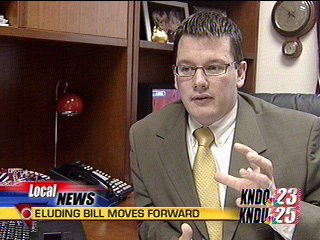 OLYMPIA, Wash. -- In Olympia this week a bill that would create tougher sentences for drivers trying to elude police is going before the senate for a second time.
The bill stems from a high-speed chase in 2006 that killed bobby Aguilar and Edgar Trevino-Mendoza.
Since the accident the victim's families have been fighting for harsher punishment for those who try to elude police.
On the one year anniversary they gathered at the site of the accident vowing that they would continue to lobby for this bill until passes.
"It's been very hard but at the same time we're trying to do something about it. For his memory to live on," said Aguilar's mother.
Representative Charles Ross sponsored this bill and has been working closely with Senator Adam Kline to make sure it moves forward.
"In every conversation I've had with him he understands what this issue is and how dangerous it is to elude a police vehicle in a residential district," said Rep. Ross.
Right now it's a Class C felony that can result in a 60-day jail sentence to five years in prison. This bill will make the sentence equal for all first-time offenders.
"If found guilty you will spend a year in jail," stated Ross.
Representative Ross says the bill failed last time because the terms of the bill were too vague. This time the bill specifies who must be put at risk to make the bill enforceable.
"The family of 4 standing on the corner when an auto going 90 miles-per-hour down a residential street. Those are the individuals we're worried about and that's not to say we don't care about the safety of the law enforcement officer but that's a specialized trained person to drive and conduct persuits in a safe manner," Ross said.
The bill has moved into the Rules Committee where it will sit until it's called to the floor.
"We've come a long way and again it's an issue I pledge to work at as long as I have an office in this building," Ross said.
This bill has already made it further than it did last year and it could be voted on in the senate as early as this week.