City of Pasco Asked To Take Over Army Land Development
Posted:
Updated: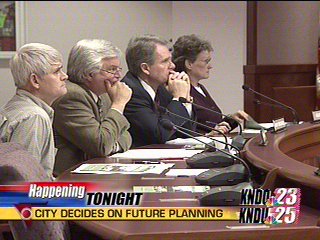 PASCO, Wash.-- The Pfc. Daniel L. Wagenaar Army Reserve Center, located at Ainsworth and Oregon Avenues, was declared surplus by the Army back in May of 2006. The Port of Pasco originally became the local re-development authority.
They withdrew a couple of months later due to a conflict of interest. The Office of Economic Adjustment has asked the City of Pasco to become the new LRA, and come up with a plan by Friday, February 29th.
Mayor Olson and other city council members said this deadline will be impossible to meet. OEA officials say any future plans have to consider the need of the homeless, but local Veterans also want their ideas heard.
"Say if the Veteran Coalition got into it, we would be involved in it too and we would be bringing in money into the program and none of that was mentioned at all, it was strictly on homeless," said Steve Prince, President of the Columbia Basin Veterans Coalition.
Veterans say they would like to see a resource center for them and their families, and they are open to the idea of assisting the homeless there as well. Even if the city becomes the new LRA, the Army has the final say on who will eventually take over.
If the city declines then Governor Gregoire would be in charge, but it is likely that she will return this matter back to the city. Council members have asked for an extension until the first of second week of April to come up with a final decision.