Union Gap Windows Shot Out by BB Gun
Posted:
Updated: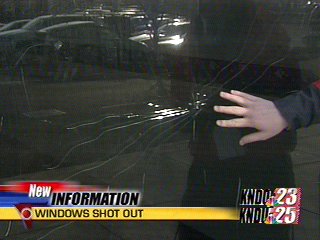 UNION GAP, Wash - Several local businesses are cleaning up after a BB gun shot out their windows.
Marcy Johnson owns the Cold Stone Creamery along First Street in Union Gap. Four windows were shattered at her store when she came to work Monday morning.
"It's just a very frustrating feeling to come up to your building and see that it's been vandalized and you don't know exactly what happened on the inside," said Johnson.
Nothing inside was stolen or damaged, but the window replacements cost about $1,500 and four hours of business.
"You do lose business when stuff like this happens. They don't understand it puts a hardship on you because you got to scramble to get to your insurance, scramble to get your doors fixed before we could even open up," explained Johnson.
Cold Stone wasn't the only place hit. There are reports of ten businesses having damage to their windows. That is including the Union Gap Fire Station.
"This is just not fun and games, we are talking about a lot of money these business owners need to put out, there is nothing funny about this," said Union Gap Police Office Hector Rivera.
Police say it is classified as a felony if someone causes over $250 in damages due to vandalism. No suspects have been located yet. We do know this vandalism happened late Sunday night into early Monday morning. Call police if you saw anything suspicious near the Valley Mall during that time.