It is Illegal Not to Pay for Your Garbage
Posted:
Updated: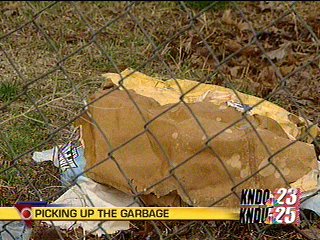 PASCO, Wash. -- Did you know it's illegal not to pay for garbage service? It's illegal in Kennewick, Pasco, and Richland.
In Pasco, garbage service is $15 a month and most people pay their bill. But city officials say the few that don't create a messy situation.
In an alley near Lewis and Wehe, garbage litters the street. Pasco code inspectors say the person who owns this home hasn't been paying their garbage bill. Code enforcers say when a person doesn't pay their bill, they can lose their can, and they often try to dump their garbage somewhere else.
Pasco Inspection Service Manager Mitch Nickolds says, "The neighbors and the community hope that everybody who lives in town is a good steward of their property and takes care of it."

The Gonzalez family lives near Hugo and A Street. Right behind their house, a massive pile of tumbleweeds has grown and grown over the last few weeks.
Nickolds, interpreting for Maria Gonzalez says, "She's concerned because of the accumulation of weeds and such. It creates a fire hazard, could burn their fences, their properties."
The question KNDU had is, whose responsibility is it to clean this up, the city says the answer is the people that live adjacent to it.
Nickolds says that in Pasco, code violators are first given a notice that they are in violation. They then have 5 days to fix the problem. If they don't they have to appear before the code enforcement board where than can be given a $500 fine.
Pasco city officials say the bottom line is that people need to pay their bill and keep their property clean. They say they even offer free dump tickets if someone has a lot of garbage they need to get rid of.