CWU and Transcribers Reach Agreement
Posted:
Updated: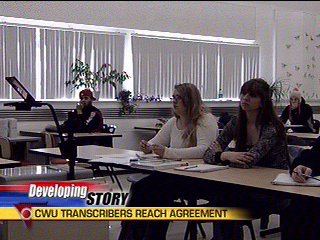 ELLENSBURG -- Central Washington University has reached a new deal with transcribers who serve deaf and hard of hearing students.
Five out of seven transcribers quit on February 14th over a dispute for the best way to provide services. Two weeks later the transcribers are back at CWU.
The University has agreed to allow a third party to write the schedule to return a 24 hour cancellation policy. According to a news release, much of the conflict between the transcribers and the university was in the scheduling.
The release said the newly re-hired director of DSS changed the transcribers schedules. The already limited number of transcribers soon found themselves working longer hours without team support. Such long hours resulted in some injuries such as carpal tunnel.
Part of the agreement included moving the transcribers out from under the management of the newly re-hired director.
Transcribers were also given back a 24 hour cancellation policy. The policy, which is standard in the position, states that if a transcriber or interpreter has a cancellation with less than 24 hours notice, they bill for it. The policy was abolished by the new director, making it difficult for transcribers to adjust their home lives accordingly.
The transcribers say they are happy to be back at CWU. The team says they now feel that the University has a better understanding of the issues at hand.