Sunnyside Woman Shot
Posted:
Updated: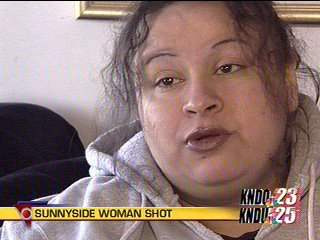 SUNNYSIDE, Wash - A gunshot victim tells her frightening story to KNDO Thursday.
Police say a Sunnyside woman was in a house when a single gunshot came from the outside and hit her.
Twenty-six-year-old Fabiola Villalobos is a caretaker for her mom and brother. She was at their house working when a bullet passed through the house hitting her in the leg.
"I heard a loud pop. I wasn't sure what it was. I felt a burning sensation on my leg and I looked down, I saw a hole in my jeans and a lot of blood dripping," says Villalobos.
Police say they have arrested a 14-year-old boy who fired the gun outside of the house on West Parkland Drive.
Initial reports said Villalobos was shot while sleeping, but she was actually sweeping the room she was in. It's who was in the room with her that scares her the most.
"My mom was in the bedroom and my one-year-old daughter was in the bedroom with me," explains Villalobos.
Villalobos says the 14-year-old suspect knows her younger brother. She says they are not gang members, but sometimes do bad things.
The suspect has been taken to Yakima County Juvenile Detention Center. He faces first degree assault and possesion of firearm charges.
Villalobos says she can start walking under her own power in the next two weeks.