Leap Day...the way to Stay Young.
Posted:
Updated: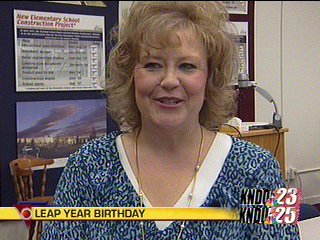 RICHLAND, Wash. - Only a select few can say they stay young forever. For those born on February 29th it's almost a reality. Leap Day only comes around every 4 years, and for Brenda Leighty of Richland who's turning 11, you could say she's a little more advanced than the other kids.
"I've accomplished quite a bit for an 11 year old," said Brenda Leighty who works with the Richland School District. Her boss says she has an impressive resume for her age.
"She's probably the most precocious 11 year old I've every been around. She does an incredible job, deals with adults everyday, and provides outstanding service. I've never seen anything like it," said Dr. Rich Semler, Richland Superintendent.
Also on her list of accomplishments, Brenda is currently on her way to getting a degree from Eastern Oregon University and says she's the youngest in her class.
This is all said with a sense of humor of course, but Brenda says being born on Leap Day does have it's downside.
"When I was first hired, 2-29 was not in their computer system. They kept telling me that they couldn't enter me into the system because my birthday wasn't correct."
Registering for things online also gives her a hard time. She says she usually has to tell a "white lie" and say she was born on the 28th just to speed up the process.
The chances of being born on Leap Day is about 1 in 1,500. An estimated 200 thousand people in the U.S. will be born on Leap Day.