Parking lot turned into makeshift used car lot for car owners looking to sell vehicles
Posted:
Updated: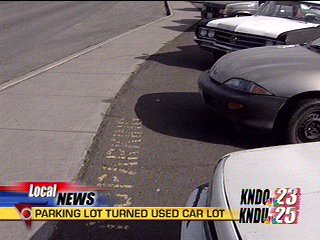 Some people have turned an empty parking lot in Yakima into their own personal used car lot, without asking for permission.
But no one seems to care enough to do anything about it.
Now the parking lot at Nob Hill Boulevard and 24th Avenue has turned into prime real estate for some entrepreneurial car owners.
It's one of the busiest intersections in all of Yakima, but for the last six years or more, since Montgomery Ward closed down, it's sat empty.
"I think it's okay," says Ken Howie, a Yakima resident who stopped off to see what is for sale. "But the owners may not like if they knew about it."
Howie had his eye on a beamer, but he says the price tag was a little high at $15,500.
"I already have three cars, but I'm looking to rotate the stock," says Howie.
Customers don't seem to mind having all the for sale cars lined up along Nob Hill Boulevard.
Businesses were a little weary to comment.
'The Coffee Shoppe' is the closest business located about one hundred feet away, but the owner declined to talk because they have regular customers who are selling their cars there.
But the people doing the selling don't appear to be concerned about getting caught, leaving their cell phones on their cars for interested customers to call.
In fact, the car owner who was trying to sell the BMW actually worked across the street at 'Oil Can Henry's.'
Evan Toland believes he started the trend back in 2003 when he sold his first car by parking it in the lot.
"If I see cops, or tow trucks, I run across the street and move it," says Toland.
Other car owners told us the reason why they picked that spot to sell their cars was because they saw other people doing it.
When asked if they had contacted to the property owner to get permission, they all replied no like Toland.
Yakima Police say this is a civil issue and it's up to the property owner to have the cars towed.
The current owner is 'Fred Meyer,' but the county assessor says Rite Aid requested a permit to build there in late December.