Richland motel evacuated after man fires gun, barricades himself inside
Posted:
Updated: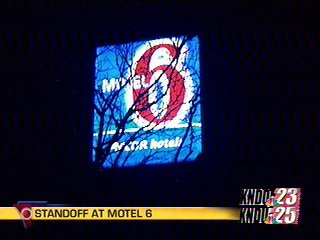 RICHLAND, Wash. -- People evacuate the Motel 6 on Fowler Street in Richland after a shot was fired. Police responded with guns drawn, trying to to get the suspect out of the room. People waited by the Motel 6 lobby, most of them awakened from a dead sleep.
Myrtle Lopez was staying nearby. She said, "We were woken up by officers banging on our doors. There was a bunch of officers with their guns pointed. Everybody was evacuated from that side of the building."
James Gettings was also staying nearby. He said, "There must have been 16 cars here in SWAT uniforms, everybody had a weapon pointed down that breezeway, the one we were all walking down."
As people waited, police continued their negotions with 38-year-old Victor Desautel. First, his wife slowly made her way out of the room. Then, Desautel, came out of the the room but went back inside as the police continually told him he wouldn't be hurt if he came out with his hands up. Then, police quickly moved to the door, guns at the ready. Fortunately, they were able to arrest Desautel without incident.
People staying nearby said they heard fighting before they heard the gunshot. Gettings said, "This guy had been real loud, bangin' on doors, tryin' to get people to let him go in their room and hide."

Police got a search warrant and found two guns and bullets inside the room. Desautel was arrested for shooting a gun within city limits. People nearby said the situation is unlike any they have ever seen before.

Gettings said, "First of all, I'm glad it was not me that they were after, then it's like okay, grab my kid and get the hell outta there."
No one was injured. Police do say Desautel had been drinking before the standoff. They are continuing to investigate the incident. It will be forwarded to the Benton County Prosecutor's office for additional review.