Graffiti Concerns Some Residents in Hermiston
Posted:
Updated: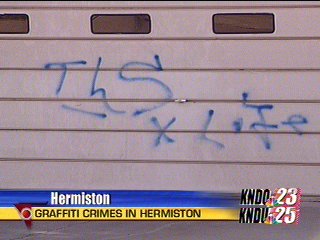 HERMISTON, Ore.-- No one wants to wake up to the site of graffiti all over the neighborhood. But some Hermiston residents weren't so lucky. They were left with some unwanted decorations.
"I really didn't know what was going on until today when we woke up and the graffiti was all over the place," said Vickie Pender, who lives in a neighborhood off SW 11th. Street.
"I feel vandalized, it's weird," said Sharon Wynn, another resident in this same neighborhood.
Hermiston police arrested five juveniles in connection with the crimes. All between the ages of 13 and 15.
Two females were charged with Unlawfully Applying Graffiti, Criminal Mischief in the Third Degree and Curfew Violations. Three male suspects also charged for Curfew Violations.
"I think they should definitely follow up with the parents, they should definitely be responsible for where their children are after dark or all day," said Pender.
Vickie says she's surprised more damage wasn't done to her property other than the driveway. But neighbors down the street got it all over their garage.
These homeowners are concerned but they're not the only ones. The kids in the neighborhood are also unhappy.
"Me and my friends like to go out and play football and you have to sit there and stare at all the graffiti and stuff, it's not fun," said Lane Boor, a 12-year-old boy whose driveway was damaged.
The parents of the five juveniles were contacted by police and cited for failing to supervise their children. The juveniles have been released back to their parents. Hermiston police say they're still investigating and trying to find any other areas that might have been hit.