State Patrols Begin Speed Emphasis on Highway 12
Posted:
Updated: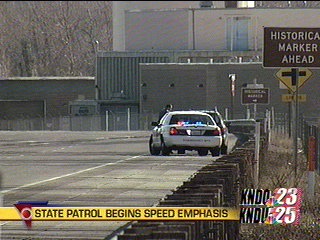 UNION GAP, Wash. -- Washington State Patrol is conducting a speed emphasis along Highway 12. It's a part of their new X-52 program.
It means 52 weeks out of the year law enforcement will be out all over the state of Washington emphasizing D.U.I. and speed patrol.
Today troopers were out in full force in the Yakima area.
Sgt. Ed McAvoy says, "Its just not going to be on the holidays anymore. People just don't speed on the holidays or do they gather on the holidays. However, its now a sustained performance of enforcement throughout the entire year."
Officers throughout the state will be working overtime to step up patrols on state highways.Their extra pay is coming through grants from the Traffic Safety Commission.
Today the emphasis was on state route twelve between Yakima and Naches.
"Highway 12 is an area where we have had numerous speed related collisions and the goal is to drive down the number of those collisions," said McAvoy.
State troopers aren't the only ones taking part in the program either. Officers from Union Gap, Tieton, Yakima and Moxee Police Departments are all working together along Highway 12 today to catch the speeders.
State patrol carefully picks each area they target with the emphasis.
McAvoy says, "Each area will pick a hot spot where numerous accidents or fatalaties take place in different counties throughout the state."
It didn't take travelers too long to figure out something was up along Highway 12 today.
Richard Calvert was driving into Yakima along Highway Twelve this afternoon. He says, "I very often see the radar traps long before I get to them, today I missed them and as I was going along I saw one then two and then three pulled off on the side of the road and thought I missed a radar trap. All the more reason to stay awake and not exceed the speed limit."