'Cougar Closet' Established to Help People Get Jobs
Posted:
Updated: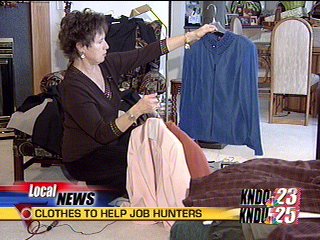 Tri-Cities -- A special program designed for WSU students has now expanded to help men and women struggling to break the cycle of domestic violence.
The 'Cougar Closet' will offer quality clothes for job interviews. Collections are underway in the Tri-Cities area now; and they will be shipped to WSU Pullman. Eventually, a Cougar Closet will be established in the Tri-Cities.
A group of women in the Tri-Cities is working with Lisa Marie Irby, Assistant Director of Development for the Washington State University College of Business with the Students in Free Enterprise (SIFE) Club.
Lisa and the SIFE have jumped through a lot of hoops to make the Cougar Closet a reality. It's been a year and a half in the making. The original goal was to provide professional clothing for students who need it for interviews. They would keep the clothing.
But the program has expanded. It will now serve non-students who have been involved in domestic abuse situations. The SIFE would provide a series of seminars on such topics as resume writing, business etiquette and professional dress. The seminars would be directed to people seeking assistance at AVP (Alternative to Violence On the Palouse) and/or the Pullman Community Outreach Offices.
Upon completion of the seminars, the participants would receive a voucher to the Cougar Closet to pick out a set of free clothing to keep for their job interviews and new job.
Again, a Cougar Closet eventually will be established in the Tri-Cities.
If you have good quality professional clothing that you would like to donate, call Connie Ostrander at 585- 0129.