Science in Education Lecture at Columbia Basin College
Posted:
Updated: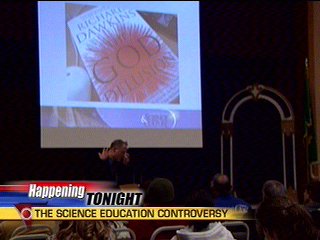 PASCO, Wash.-- Close to 75 people came to CBC to learn more about Darwin's theory of evolution and the theory of creation. Topics that continues to cause controversy in the field of education.
"Both sides are religion when you're talking about Darwin it's a belief system, when you're talking about creation it's a belief system," said Marshall Almarode, who attended the lecture.
Dr. John West described the seven myths of Darwinism, and the impacts of Intelligent Design or ID, which is a modern way to look at creationism.
One of the myths says ID wants to unify church and state. Some in the crowd disagree.
"I think science and religion don't really have a place for conversation, because they come from different presuppositions," said Jacob Walley, a student at CBC who was at the lecture.
Others are hopeful that education will someday find a middle ground on this issue.
"In school actually I think it should be neutral, it should be a mix of both really, I don't think it's right to focus on just one or just the other," said Kalen Finn, another CBC student at the lecture.
During the lecture Dr. West referred to the National Academy of Science, saying 95% of biologists say they're atheists or agnostics. Students are not surprised.
"It didn't surprise me, and I suppose it probably makes them more excited about teaching evolution, I mean they probably won't have any qualms because of the implications," said Walley.