A Yakima Police Officer suffers broken bones in motorcycle accident
Posted:
Updated: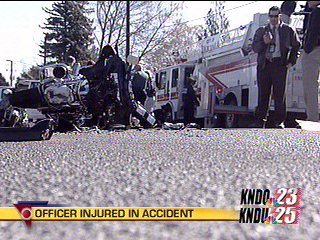 Yakima, WA - A Yakima Police Officer suffers broken bones, but is expected to survive a motorcycle accident Wednesday morning.
The accident happened at Summitview and 24th Avenues at about 9:40am.
Yakima Police say 42-year-old Officer Darryl Henning was chasing down a speeder on his motorcycle when 52-year-old Tim Kelly pulled his minivan out from a stop sign and hit him.
"I saw the cop go by with the lights on and then I heard a horrible thud," says Carrie Neale, who lives nearby.
"There were about 14 patrol cars, two motorcycles came racing by and two ambulance," says Delia Hinkle, another resident near the accident scene.
The accident happened at about 9:40 this morning.
Yakima police say Henning was thrown 20-feet after his motorcycle collided with Kelly's minivan.
Police say Henning underwent surgery for several hours early Wednesday evening for multiple broken bones and is listed in serious condition.
Police say Kelly was not hurt and not found to be under the influence of any substances.
But, they say, both the motorcycle and the minivan were totaled in the accident.
Traffic from 23rd to 25th Avenues along Summitview Avenue had to be diverted for more than three hours while officers investigated the accident scene.
Peggy Yearout says she has seen too many accidents at this intersection in her 49-years living in the area.
"You think maybe the city will do something now? This is a lethal corner," say Yearout.
For Sergeant Gary Jones who oversees YPD's traffic division and investigated this accident, it all hit close too home.
Not only is Henning one of his officers, just four years ago, Jones was hit riding his motorcycle at the very same intersection.
"You walk around and look at all the sights," says Sergeant Jones, "It's a bit unnerving. We wish the best for the officer, that he makes a speedy recovery."
It took Sergeant Jones six months to recover and return to the force.
Motorcycle accidents are very common among police officers nationwide and can be very dangerous.
Fourteen officers have been killed in Washington State alone.