Valley Mall Voyeurism Suspect Caught
Posted:
Updated: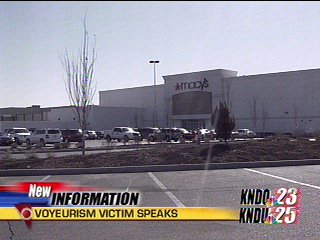 UNION GAP, Wash - A Yakima teenager shares her story after being a victim of voyeurism. She gave KNDO a call today after she saw security video of what happened to her. She hopes to prevent other woman from becoming a victim of this.
"It happened in a matter of ten or 15 seconds. It seemed so surreal, it's like I wasn't watching myself. You can never think this kind of thing can happen to you, but it does," says Jennylyn Aganda, the victim.
Nineteen-year-old Aganda works full-time at the Macy's in Union Gap. Last Friday, security there noticed a suspicious man in the woman's clothing section.
"The second he saw me, he walked on the other side of the wall and pulled out a camera phone. Later I went to do something and he walked by, he took a picture under my skirt and kept walking," says Aganda.
Aganda was dancing for the Yakama Sunkings this year. Since the voyeurism incident she has quit the team, stopped going to the gym and taken a few days off of work. She fears she may see the suspect again.
"I cried and cried and cried two days straight, not knowing what was going on. Now I have accepted the fact there is nothing I can do. I can't go out and catch the guy myself. My job is to make other woman aware of sexual predators out there," explains Aganda.
Union Gap police say late Tuesday they were able to locate the suspect and arrest him. He is also connected to a hit and run last September. He will make an appearance in court Thursday afternoon.