New Businesses Take Advantage of Business Expo
Posted:
Updated: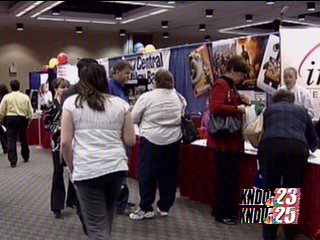 A record number of businesses took part in the 2008 Business Expo in Yakima tonight. Many of them were new businesses and independent sellers. They're hoping the large crowds that came through tonight will help jumpstart their business.
Gabrielle Hauff manages the Sole Therapy Medical Day Spa in Yakima, She said, "We've gone through all of our handouts just about and business cards. It's been excellent."
Sole Therapy has been open since October 29th.
Many people who stopped by their booth tonight had no idea their business even existed.
Hauff said, "They're shocked. We thought we were getting out there, but this is helping us with the exposure and so now they know we're here."
If you got too tired from walking around the expo Sole Therapy was there to give you a massage, but you needed to get there early.
"We're also giving free services tonight complimentary services and those have been booked up as well," said Hauff.
New businesses aren't the only ones taking advantage of this networking opportunity. Many independent sellers and businesses run from home used this chance to get their faces out for the public to see.
"I'm an independent consultant with Arbonne International. I work out of my home. I'm hoping we can take away with us new customers that want to learn about taking good care of their body," said Christina Vaughn.
Vaughn is also a member of the Yakima Chamber of Commerce. She says that is the goal for all of the businesses that come to Expo.
"That's what the chamber is all about being a member we want to help other businesses connect the pieces of the puzzle. The puzzle is how do we get the new audience? How do we reach people? And being a part of the Expo is putting everything together piece by piece," said Vaughn.