Man Who Says He Suffered Brain Damage After He Was Tased Remains in Jail
Posted:
Updated: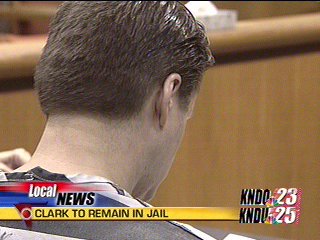 Kennewick -- A man accused of resisting arrest, forcing West Richland officers to use a taser, remains behind bars.
Mark Clark of Benton City was in court today. He has complained that since he was tased during an arrest in West Richland last year, he has suffered permanent brain damage, hallucinations, loss of sense of smell and taste, and has passed out in jail.
Clark's council attempted today to get him out of jail, saying DSHS would not pay for medical exams as long as he is incarcerated. But the judge said Clark has had plenty of check ups, not only at Harborview Medical Center in Seattle, but inside the jail as well. The judge said records show that Clark is OK to remain where he is.
Meanwhile, West richland Police Chief Layne Erdman says injuries can happen with the taser, but their use can also open the door for inmates to abuse the system.
"People try to find loopholes in the system. They try to find ways out. They try to find changes in policy or abuses of policy. They're always looking for reasons to defeat a case. And I think that will exist as long as there is law enforcement, and as long as there are courts."
Erdman said Thursday that officers make every effort to avoid injuries, not only to officers, but to suspects also.
Clark was hospitalized after his arrest, and transferred to Harborview Medical Center for treatment. The judge in the case Thursday reviewed reports and indicated that they show three cat scans on Clark prior to his release. He also said that Clark has been treated while in the jail, and reports do not indicate he needs further treatment.