West Valley experiencing historic growth
Posted:
Updated: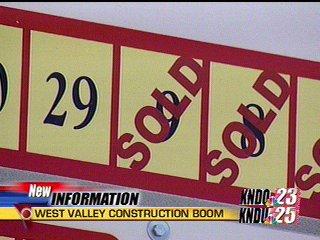 Yakima, WA - Yakima City Planners say the West Valley area is experiencing historic growth.
Developers are looking to build as many as one thousand new homes.
The only thing that used to grow in West Valley were all the apples.
Now, new construction is taking over and homes are sprouting up all over the place, as well as big signs promoting new developments.
"As you probably saw as you had driven up, the big cats above us, they will be putting in I don't know how many homes," says Connie Chambers, a retiree from Issaquah, who just moved to the area seven months with her husband Kenneth Helm.
"We've looked from the Canadian border to the Oregon border. We didn't find anything that didn't cost close to a million dollars," says Helm.
Which is why retirees are flocking to the area.
A developer just submitted an application to build 24-single family homes at 76th and Washington Avenues.
Bruce Benson, City of Yakima Planning Supervisor, says that was big news ten years ago, but now they get two or three a week.
"We've probably got about a thousand new home sites, just within this area," says Benson, "It's the new projects, new lot development that's really kind of exciting because we're because we've never seen this level of creation in the City of Yakima."
The city has annexed 1.6 miles since this past April and developers are pushing for more.
With retirees looking for good weather and a good deal.
Benson says all the new homes will put added pressure on the city and school district in West Valley to provide services, but the population explosion will be a boon for the local economy.
He says the population benchmark is 100,000. At that number, many new businesses will start calling to move into the area.