Animal Shelter Allowed to Stay Open
Posted:
Updated: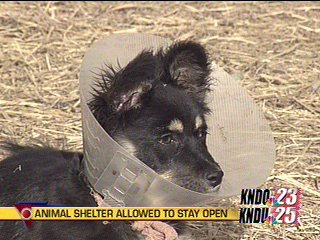 TERRACE HEIGHTS, Wash. -- An animal shelter in danger of being closed down was saved yesterday. Barks-R-Us will be able to continue to operate thanks to a surprise decision from Yakima county officials.
Bill and Elly Patnode have saved countless animals in Yakima since 1969. They run the Barks-R-Us Animal Shelter out of their home in Terrace Heights.
The future of their business came into question last summer when an unidentified neighbor filed a complaint that the Patnodes were running an illegal kennel out of their home.
County officials however notified them yesterday that they could continue to operate since their business predates zoning ordinances that prohibit keeping more than four dogs at a time in residential neighborhoods.
Elly Patnode says, "There was nights when I couldn't sleep because I was worried sick that the animals I wasn't able to save would end up being destroyed."
It was a sworn affidavit from Yakima veterinarian David Hinz that saved the shelter. Since written documents have since been destroyed that prove the shelter operated before the changes in zoning, Hinz vouched that the Patnode's business did predate the ordinances. That was enough for the county to allow the Patnode's shelter to continue operating as they have for the last 40 years.