Three Political Guests Attend the Franklin County Republican Convention
Posted:
Updated: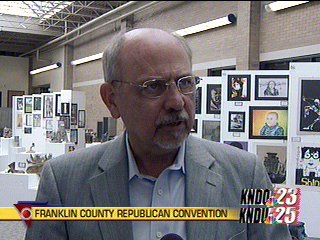 FRANKLIN COUNTY, Wash.--Congressman Doc Hastings said county conventions like the one Franklin County Republicans held at Columbia Basin College (CBC) is a start....the start of the nomination process to elect a new U.S. president.
"This is also a very important process," adds Hastings. They (Franklin County Republicans) will adopt a platform here. That platform will go to the state level and talk about the principles between the two parties."
In the race for Washington State governor, Republican candidate, Dino Rossi, called this year's election a "different playing field."
"We started off, I don't know, 30 something points behind (Governor) Christine Gregoire and now at the last poll, we saw the Rasmussen, what happened last week, had her at 46 percent, me at 47 (percent), so we're in the position to win again," said Rossi.
And as long as people continue to get involve and vote, Washington State Attorney General Rob McKenna, said the "American experiment" will continue.
"We can pick our own leaders," said McKenna. That we don't have a military dictator or a king or an aristocracy ruling us. We decided over 200 years ago that we're capable of governing ourselves."
As well as family. Rossi added he wouldn't put his wife and children through another election if not for the actions of others. He credits Washington Secretary of State, Sam Reed, for creating a statewide voting system.
"He's wiped off over 400,000 people that registered twice, felons and dead people are no longer on the voting rolls," mentions Rossi. That is a very good thing."
Later this year, when the next Washington State governor is announced, will Rossi feel the same way?