Young Athletes Turning to Personal Fitness Trainers
Posted:
Updated: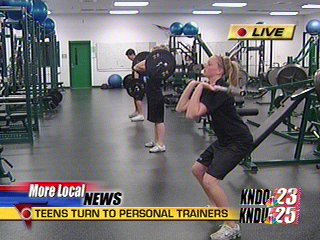 RICHLAND, Wash. - More and more high school students are relying on personal trainers to shape up, lose weight and improve in sports.
One program becoming very popular among young athletes is the C.R.A.Q. Program. That stands for Conditioning, Reaction, Agility and Quickness, meaning the crack of a whip to "whip" the athletes into shape. Participants train up to four days a week costing them 15 dollars a session. Every session is an hour and a half.
Some athletes say the program gave them a boost to qualify for college sports.
18-year-old Lindsay Roberts, a C.R.A.Q. Participant and Richland High School Student says she was accepted to Boise State University thanks in part to the training she received. "My endurance was better, my strength was better. I can beat up people on the field and on the basket ball court. And now I'm working to get better for the summer and my upcoming fall semester season at Boise State."
Isaac Butts is now at Idaho State University after making a video tape with C.R.A.Q Program Director Joshua Artis. The tape showed his performances on the field as well as in training. "We put a little tape together and sent it off to numerous colleges and it really helped out with my recruiting process and getting me into college," says Butts.
The C.R.A.Q. Program is held at Richland High school, but any young athlete in the area can join. Joshua Artis who is the personal fitness trainer just happens to be a football and track coach as well as a Special Education Teacher at Richland High.
To sign up or find out more about the C.R.A.Q. Program, go to www.craqtraining.com.