Oregon License Laws Have An Effect on Washington
Posted:
Updated: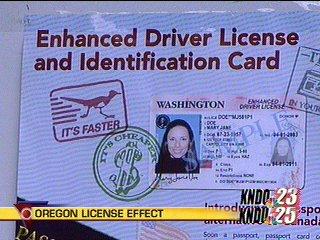 KENNEWICK, Wash. -- Changes in the way Oregon drivers get licenses may have people moving to Washington.
It has been about a month since the new rules went into effect in Oregon. When you are getting a driver's license in Oregon you have to verify your social security number.
In Washington, if you don't have a social security number, you can sign a statement and get a license anyway. Now, many are worried that because of the strict Oregon laws more people will be coming to Washington to get their license. In Clark County and Vancouver there has been a substantial increase in customers but in Kennewick the increase has been minimal. But if there is an increase, DOL officials say they are better able to handle the increase because they have bilingual staff members.

DOL officials also say that the stricter license guidelines could soon be coming to Washington.
They say a license now has a number of different purposes., including being your primary means of identification.
Defense Attorney Gloria Ochoa Lawrence says she is definitely against the stricter license laws coming to Washington. She says we will see more people driving that do not have a license and therefore without insurance. She says lawmakers must consider the consequences .
She says, "There's just a lot of fallout that happens. I don't think we focus on that or the consequences of such laws that are made to restrict illegal immigration. Again, the means to an end need to make sense."