You Flush a Toilet in Yakima; Where Does It Go?
Posted:
Updated: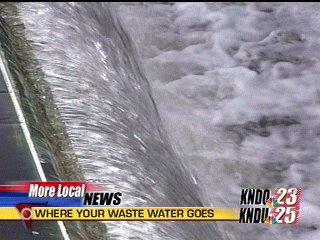 YAKIMA, Wash - Have you ever wondered exactly where water is sent once it is flushed down the toilet or goes down your sink?
Three hundred and twenty miles of a collection system gathers the water from Yakima, Union Gap and Terrace Heights. That water goes to the Waster Water Treatment Plant off of SR-24 in Yakima.
There, dozens of employees work 24 hours a day to make sure all the water coming in is cleaned so it can be sent back out.
"I really think they think it magically disappears," says Max Linden, a Utility Engineer at the plant.
First, the water travels through a filter to remove all large objects. Crews say they have found beach balls, money and even jail uniforms in the filter.
Next the water travels through more filters to remove even smaller waster that is about the size of a grain of sand. This waste is called sludge.
Then the water goes to the trickling filter. It gets poured out over eight feet of rock. The same rocks you would find at the bottom of a river. Bacteria on them will eat the microscopic waste left in the water.
Later, air is pumped back into the water to keep the bacteria alive so they can continue to eat microscopic waste.
Chlorine is then added to get rid of all the waste left in the water. Sulfur dioxide is then put it to cancel both chemicals out.
After two days of treatment, 10 million gallons of water a day will be sent back into the Yakima River and to head down stream.
To see the plant yourself you can schedule a guided tour. Call 575-6077