Police say love triangle sparked stabbing incident outside Yakima bar
Posted:
Updated: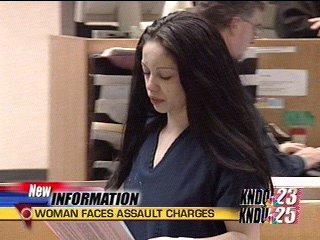 Yakima, WA - Police say a woman stabbed three other women after a love triangle turned violent outside a bar in Yakima.
The owner of Max's Bar and Grill says he is fed up with unruly customers and he has instructed his employees to crack down.
Police say the fight happened in the parking lot when 24-year-old Tisha Palacios bumped into her boyfriend's ex-girlfriend and her friends.
An argument turned into a fight and witnesses say Palacios pulled out a knife and started stabbing and slashing at the other women.
Palacios choked back tears in court this afternoon, pleading with a judge to reduce her bail so she could be with her two children, but bail was set at $50,000
She could face as many as three 1st degree assault charges.
A bar employee says they kicked Palacios out just after one o'clock this morning because she was too drunk, but unfortunately for them she ran into the wrong people at the wrong time.
One of the women who had been stabbed had to be taken to the hospital with cuts on her chest and a puncture wound on her arm.
Another stab victim left the seen before police arrived and they are investigating.
Norm Woods, an employee at Max's Bar and Grill, witnessed the incident and says it happened too quickly for bar bouncers to react.
He says it's frustrating because they are working so hard to cleanup the bar and the owner recently told his employees to institute a zero tolerance policy.
"We're doing a big remodel and we're trying to make this bar look really nice and we want to get rid of a bad element," says Norm Woods.
Palacios won't be coming back any time soon. The judge barred her from the bar, as well as from contacting the three women she stabbed.