Police Work To Reduce Gang Activity In Schools
Posted:
Updated: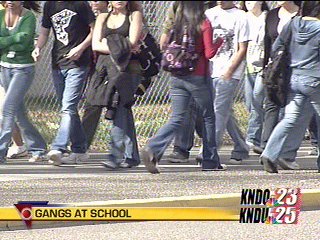 PASCO, Wash. - Police are seeing an increase in gang activity across the region.
Gang activity has been showing up in all parts of the community and affecting some of our schools.
Pasco High School gets out at 2:18 p.m. and police are stationed around the school.
Pasco Police Chief Denis Austin said, "We're seeing kind of an increase in gang presence in the community, we're also seeing that near the school. We're talking about those kinds of things with school staff and how we can eradicate that problem."
Pasco Officer Curtis King is the school resource officer at the high school. He is the only police officer inside the school and Pasco High School is bigger than the city of Connell.
Austin said, "Imagine 3,000 plus students in a square block. It's like a small city."
Pasco School District Associate Superintendent Dennis Maguire said they have administration trained to identify problems, security cameras, and a variety of security devices throughout the school.
Police said that one of the best ways to tell if a student is in a gang is by the way they dress. Students said it's easy to spot a gang member.
One student said, "They wear Southpole, pretty much anything with old english writting, some sports jerseys."
Another student said gang members wear, "long tees, bandanas. I don't want to wear red on the east side of the city. They (gang members) will jump you. "
Austin said, "We're seeing what we believe to be gang dress on some of these individuals and we are asking the school to tighten up their dress code."
Pasco Police said they are working with the school district to educate them for what to look out for.
Austin said, "In the early 90's we saw gang problems in the schools and we are not about to see that again. "
Police in Kennewick and Richland said that they see gang activity in the schools and the curbing that type of behavior is very important. All the schools in the area have a dress code to reduce the amount of gang activity.
Pasco one of the biggest high schools in area.