2008 Baseball Ceremony Dedicated to Young Cancer Victim
Posted:
Updated: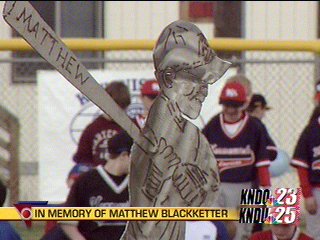 KENNEWICK, Wash.-- Matthew Blackketter was just 9-years-old when he passed away this past winter. He played with the Kennewick American Youth league and Saturday was the kick off for their 2008 season.
Balloons in the air were all let go in memory of a young baseball player who was taken from his team too soon. Matthew was diagnosed with cancer. This came as unexpected news to the family.
"We found out about it 12 days before Christmas last year," said Chris Blackketter, his oldest cousin.
Matthew fought a year long battle with cancer. He played with the Kennewick American league. Friends say Matthew wouldn't let his treatment prevent him from getting out onto the diamond.
"The one play that I will always remember is when they actually came back from the hospital when he had the cancer and he was suited up, and they actually put him out on the field and that was very courageous and I know it brought a lot of tears that day," said Kyle Meyer, President of Kennewick Youth Baseball.
Blackketter touched the lives of many in the community, and those who knew him best, wanted to find a way for him to always be around.
"We wanted to dedicate this year, this 2008 baseball season to little Matthew Blackketter in his memory, and his family," said Meyer.
Matthew's silhouette will watch over every game. Family members say he would've liked it that way.
"If he could be here and see all this that everybody is doing for him, he'd be doing back flips he'd be pretty happy," said Blackketter.