Shots Fired Leads to Major Drug Bust
Posted:
Updated: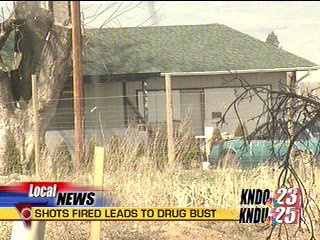 TOPPENISH, Wash. -- Yakima County Sheriffs made a huge drug and weapons bust late last night near Toppenish after responding to shots fired in the 7,000 block of Lateral C Road.
Police aren't releasing much information yet, but we do know the events that lead up to last night's arrest.
KNDO spoke with a neighbor today who called police after one of the suspects followed him into his driveway and began yelling and shooting at him.
Donald Martin was getting his newspaper last night before pulling his truck into his driveway, when his neighbor drove by and began yelling at him in Spanish.
Martin then pulled into the driveway and started to get out of his truck. The neighbor followed him and began yelling at him again.
"I just responded to him that 'I don't know what your saying, I don't know what you want', and the next thing I knew he pulled out a handgun, a revolver, and started firing," said Martin.
He then went into his house and called 911 the neighbor then fired another round of shots.
"He was back over in his driveway when he fired the fourth round. I have no idea if he was shooting at the house or one of my vehicles, or what."
The sheriff's office arrived at the house and detained two suspects a 30-year-old-male and a 44-year-old-female.
A search warrant was obtained and while police were searching the house they found numerous weapons including an assault rifle, and large quantities of marijuana, crack cocaine, and supplies and equipment used to manufacture drugs.
Martin wasn't surprised to find out his neighbor was running a drug lab.
"Nobody ever pulled inside the fence. People would pull up outside, sometimes they would honk; sometimes they'd just pull up. Somebody would come out and meet them and then they would leave."
The two suspects have been booked on charges of assault, weapons violations, forgery and manufacturing of narcotics with intent to deliver.