Rising Diesel Prices Changing Items on Your Grocery List
Posted:
Updated: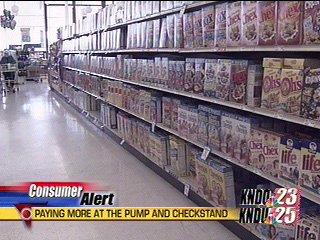 YAKIMA, Wash - The cost for diesel fuel has gone up. Big rigs are taking a hit at the pump and you will too at the check stand.
The rising fuel prices directly translate to the prices you pay at the grocery store, But that isn't the only change you will see in some of the common items on your shopping list.
Manufactures are doing anything they can to cut down on the weight and size of their products.
"A lot of the mayo has gone from glass bottles to plastic bottles," says Chris Brown, Owner of Wray's Food & Drug in Yakima.
The food makers are trying to decrease the cost of shipping so the prices on the shelves don't rise as much as fuel has.
"Diesel has gone up and stayed up, I think that is the key. We didn't just get a spike, it has went up and hasn't gone down," explains Brown.
Some of the Companies have even started to reduce the size they sell. Bigger jars of mayonnaise used to have 32 ounces in them, now they carry only 30 with the price staying the same.
It's also the heavier items where you might notice a price increase, like a bag of charcoal. For something lighter, like a case of toilet paper, you might not have to pay much more.
The items where you are going to see the biggest jump in price is going to be the perishable items like meats and produce. Only a few more pennies of an increase for other items.
The average price of diesel right now is a record $4.10 in Washington. Just a year ago that price was $2.89.