Lock Out Yakima Car Thieves
Posted:
Updated: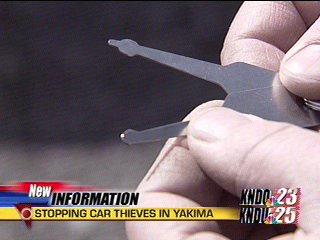 YAKIMA, Wash - Yakima Police say they've arrested a man in connection with a string of car thefts.
About a week ago, nearly a dozen Hondas in Yakima were stolen in a 24-hour period. A similar situation happened in the Tri-Cities earlier this month.
Detectives say the case isn't closed; there are still suspects out there.
Local car experts say the criminals may be using a certain method to steal the cars in the area. The best way to prevent the thefts may be the easiest and least expensive.
Terry Morton owns Morty's Towing. He also specializes in re-possessing cars. It's a job he needs to be quick and discrete. Morton uses a special set of keys he can jiggle to open a door or turn over an ignition. Police say criminals could be using tools like this to steal cars in our area but, there is an answer and a way you can protect yourself. Using a steering wheel lock.

"Those I can not pick," says Morton.
Other experts say you can spend hundreds of dollars on a security system, but it may not be your best bet.
"The alarm, it works to make noises but, an alarm won't stop them from stealing a car," says Manaf Azmi, owner of Diamond Audio in Yakima, who sells car alarms.
Azmi says he usually suggests a steering wheel lock to his customers.
Yakima Police say they think the car thefts didn't involve a group of people they think the thieves are working independently. Give police a call if you have any information about this.