Pasco Mobile Home Fire Update
Posted:
Updated: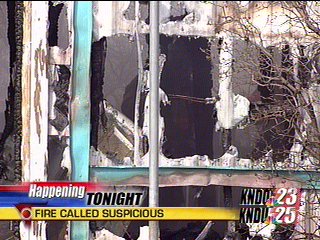 PASCO, Wash. -- A mobile home burns to the ground and now police investigators are trying to figure out how it started. The fire got started at about 3:30 Friday afternoon at a mobile home at the corner of Elm Street and Adelia in Pasco. Firefighters say at their highest, flames reached 20 feet into the air. Now, they are calling the fire suspicious.
Kids gathered on street corners, watching and waiting as the house burned down.
Eyewitness Denise Guzman says, "It was like a tornado of fire. The house was abandoned, there were no injuries, there were broken windows, there would always be weeds and everything."

Police say the owner is an elderly woman who lives in Las Vegas. Code enforcement had already tried calling her because the house had been abandoned for so long. Police sent in their fire investigator because there was no one living in the house and there was no electricity running through it. Without the electricity, they think something else could have caused it.

Eyewitness Roger Retancourt says, "The flames were like orange and red with yellow. It looked like a big ball of fire."

Guzman says, "It was like a big flame of tornado going around and around in circles."
The Pasco fire chief told us earlier he thinks some sort of accelerant could have been involved because of how fast the fire burned. But, the fire investigator has yet to confirm that.