Pasco High Student Senior Project Raises Money
Posted:
Updated: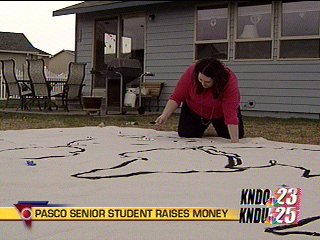 PASCO, Wash.-- Elizabeth Ginsberg is asking her fellow classmates to leave their mark on the world. Here's how.
"We came up with the idea of leave your mark on the world and how students would paint a canvas with the world on it and it would not only show that each person can change the world in a different way but that they can do it together," said Ginsberg.
Elizabeth has been working on this canvas for about a week. It will be placed outside Pasco High for students to paint a part of it.
Each student must pay two dollars to paint their section. All the money raised will go to "Nothing But Nets".
"Every 10 dollars that's donated buys one insecticide treated for malaria in it for a family in Africa,"
Elizabeth's sister is a sophomore at Pasco High. She's helping her out as much as she can.
"I've told my friends about the project and just kind of explain what nothing but nets was," said Kathryn Ginsberg, Elizabeth's sister.
And it's not just her sister helping. The community is also stepping up to the plate.
Elizabeth says the canvas was donated to her by Home Depot., and some of the paint was given by Craft Warehouse. She's glad she's making a difference.
"I'm hoping that they'll have fun but also just to know that they can contribute to something greater than them, I think that's really important," said Ginsberg.