Switching to Gas Powered Scooters to Save on Gas.
Posted:
Updated: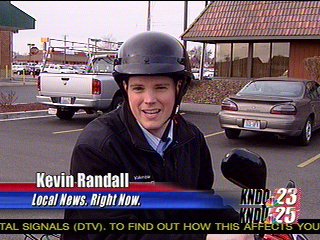 KENNEWICK, Wash. - As gas prices break record highs, some people are turning to new transportation to beat prices at the pump.
26-year-old Matt Russell of Kennewick is parking his Jeep Wrangler SUV and switching to another way to get around.
"It's about 70 miles per the half gallon and it's amazing, my jeep gets, I'd say, 16 miles per gallon," said Matt Russell who recently purchased a scooter.
In other words, the light weight moped uses far less gas and is saving him money. But Russell isn't the only one catching on to this idea.
The Motorcycle Industry Council says sales on motor scooters have doubled in recent years. 42 thousand scooters were sold in the year 2000, 86 thousand in 2004, and they saw a 20% increase in sales 2006.
Retailers like Joe's Sports and Outdoors in Kennewick sell out of the gas powered scooters as fast as they come in.
"They do go pretty fast, once we get them in they probably sit on the floor 3 to 4 days max," said Sean Templeton with Joe's Sports and Outdoors.
But the actual speed of a gas powered scooter is only about 25 to 40 miles per hour depending on the model. The price of a new scooter can be as low as $700.00.
According to the Department of Motor Vehicles, in order to operate a moped or scooter in the state of Washington you must be at least 16-years-old and have a driver's license. There is no need for motorcycle endorsement for the smaller engine models that fit the following requirements: It must possess wheels that are at least 16 inches in diameter, have an engine that is 50 cubic centimeters (cc) or smaller and can achieve a maximum speed no higher than 30 mph on level ground. Any models that do not meet those requirements would require a motorcycle endorsement.
One requirement shared no matter the design or model, helmets are always required when riding scooters in Washington.