NASCAR's "back to basics" strategy might sound familiar to some hydro racing fans
Posted:
Updated: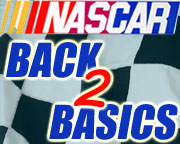 There are a number of hydroplane racing fans that have suggested the sport needs to get back to basics as way to grow the sport. That point can be - and has been - debated ad nauseam on some of the sport's message boards.
Wherever you land on the debate, there's no denying that Hydro fans would love to have the mass appeal - and mass audience - that NASCAR has. And now that strategy is something NASCAR is doing; they've decided to go back to their roots to return its fans to the seats.
What a difference a couple of years can make. We heard recently about the problems NASCAR is facing with sponsorships. Even some of the top names in the sports are having difficulties finding full-season sponsors.

Read Find racing sponsorships getting harder - just ask NASCAR
Now, NASCAR is undergoing a dramatic change in strategy to win back fans in light of two straight years of declining TV ratings. NASCAR and its TV partners have adapted a "back to basics" strategy to bring fans back to the sport.
NASCAR's personality was built on tough characters who raced hard, played hard, and let the chips fall where they may. Much of that went by the wayside in the hoopla and explosion of interest in NASCAR. Becoming a main stream sport with a growing white collar, upscale audience may have led more to a star-studded, celebrity driver taking center stage. And that image may have been taken over even more when NASCAR clamped down on language, disagreements between drivers, and pushed everyone to tone it down, some of the sport's long-time fans fell away.
The new strategy? Build on personalities, let drivers be themselves, and let them fight things out. Sometimes, literally.
In a recent cover article in Broadcasting & Cable magazine, writer Ben Grossman points out the difference in discipline from last year to this year as an example of how NASCAR's changed gears:
"Last April, angered by the actions of the sport's sanctioning body, the veteran racer (Tony Stewart) compared NASCAR to professional wrestling," writes Grossman. The penalty? Stewart was given a season-long probation.

This year, Stewart "allegedly punched 2004 Cup champ Kurt Busch in the middle of a disciplinary meeting and, after a recent race, went ballistic on a tire manufacturer," the article states. On top of that, Stewart publicly took on one of NASCAR's top partners: "'Goodyear can't build a tire that's worth a crap," he barked..."

The penalty this year? A six week probation. Big difference in a short time.
Grossman reports that privately, NASCAR officials are probably sporting "hidden smiles" over all of it. Having a resident bad-boy apparently has been good for ratings. Stopping a two-year slide, ratings were up 19% in the March 9th event.

Read the full Broadcasting & Cable article >>