Police Arrest Suspected Car Thief
Posted:
Updated: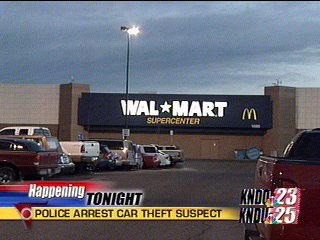 YAKIMA, Wash. -- Two men are in jail after police say one of them attempted to break into a car in the Wal-Mart parking lot. One of the suspects may be responsible for other recent car thefts in the area.
Police say they are still piecing things together, but it all began this afternoon in the Wal-Mart parking lot.
An off-duty Yakima Police officer spotted a suspicious person trying to open a car door. He immediately dialed 911 and officers quickly responded to the scene.
The suspect then fled in a vehicle driven by an accomplice.
The vehicle was eventually stopped and the suspect then fled on foot. Officers were able to set up a perimeter around where the suspect was believed to be and they eventually caught and arrested the man.
Wal-Mart shoppers were still feeling a little uneasy after hearing this happened in the middle of the day.
Sally Glover heard the news of the arrests when she was shopping at Wal-Mart tonight.
"Well you don't think about that going to the grocery store, especially in the middle of the day. You might be more aware at night, but its shocking and I guess it's a sad tale of today's world that that's what happens even just grocery shopping," said Glover.
Shoppers may be getting some peace of mind tonight though. Police believe one of the suspects 22-year-old Justin Hand may be responsible for other car thefts in the area. They are not saying which thefts he may be linked to or where those have taken place.