Another Arson in West Valley
Posted:
Updated: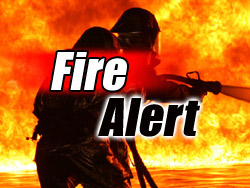 YAKIMA, Wash. -- The West Valley Fire Department is dealing with yet another arson fire today. This fire comes just days after two men were arrested for a setting a number of fires in the West Valley over the last two years.
Police have said since the arrests there may be more suspects out there.
They have determined today's fire was deliberately set and Yakima Police are now working hard to find out if it's connected to the same group.
West Valley firefighters worked throughout the day cleaning up the mess from the early morning fire.
They were continuing to spray down the bins this afternoon to make sure there were no hot spots left.
Most of the firefighters had been on the scene since 5 a.m.
West Valley Fire Chief Dave Leitch said, "Somebody saw it right away and really helped us to get have quicker to keep it from getting really big because the bins really burn fast and hot."
Over two hundred bins were destroyed, but that amount could have been much higher had it not been for yesterday's brief return to winter.
"One of the things that helped is we had snow yesterday so the moisture levels were up in the bins. That helped from to keep it from getting too big," said Leitch.
This is just the latest in a string of fires in the West Valley over the last year and a half. Police arrested two suspects earlier this week that they believe to be responsible for those fires. They were a part of the self-titled Mayday Mob, that even has a MySpace page.
"Its kind of coincidental that early this morning we have a five and they made two arrests earlier during the week. So I think there's still more to come," said Leitch.
Police still aren't saying if the fires are connected to the two suspects or the Mayday Mob, but Yakima Police already had three investigators on the scene early this morning to try and figure out who is responsible for this latest West Valley arson.