Another Deadly Accident in the Lower Valley
Posted:
Updated: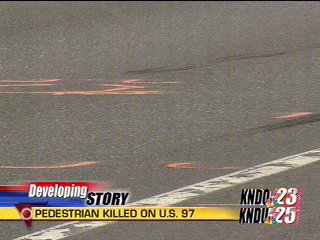 WAPATO, Wash. -- A pedestrian was killed last night along State Route 97 near Wapato. Police say alcohol was involved.
Last night's accident adds another tally to the growing number of alcohol related accidents in the Lower Valley.
This crash didn't involve a drunk driver, but the pedestrian who was killed had been drinking.
21-year-old Daniel Ohms was walking in the north bound lanes of the busy highway when a pick-up truck hit him and then a semi hit him again.
He was pronounced dead at the scene.
It happened last night around 8 o'clock near milepost 67.
The northbound lanes were closed for about three hours while State Patrol and Yakama Tribal Police investigated the accident.
State Patrol says the Lower Valley has always been a problem area, but the first three months of this year they've seen even more alcohol related accidents than usual.
"That's one of our target areas that we have selected as an area that we are going to work at certain times usually night times during the weekends we'll work that a little heavier than we would at other times. Most important when driving down there is drive the speed limit, wear your seatbelt and watch out for the other guy," said State Patrol Sgt. Ethan Reavis.
State Patrol also urges drivers to call 911 and report any drivers or pedestrians they believe might be impaired.