Lesbian, Gay and Bisexual Teens At Higher Risk For Drug Abuse
Posted:
Updated: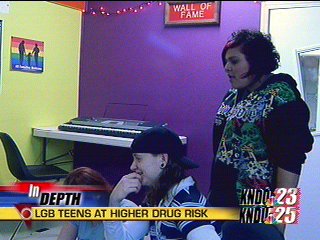 KENNEWICK, Wash.-- A recent study by the University of Pittsburgh shows lesbian, gay and bisexual teens are at a higher risk for drug and alcohol abuse. And if you don't think our local youth is affected, think again.
"When I went to Hanford if anybody knew I was bi, I'd get beat up, or teachers would look at me wrong," said Ali Bache, a 19-year-old girl member of the Vista Youth Center.
This discrimination left Ali with few people to turn to.
"Mainly my family, and a couple of real friends that I had, that was about it," said Bache.
But she's not the only one facing these issues. Many other teens have friends who face constant alienation.
"One of my best friends is actually a lesbian and she's discriminated all the time at school and around her father even," said Rocky Van Rossum, an 18-year-old also member of the center.
And those who aren't tolerant of this lifestyle aren't afraid to show it.
"They degrade them and call them names and stuff at my school," said Jazzie Spearman, a 14-year-old girl just finishing middle school.
Every Monday, a teen council at the Vista Youth Center gets together to brainstorm on how LGB teens can stay away from drug abuse.
"Part of the program is the teen dating violence prevention, but it includes things like self- esteem, refusal skills you know healthy life," said Mark Lee, Executive Director of the Vista Youth Center.
Mark says he's tried reaching out to several schools in the area, to talk about homophobia and help resolve these issues. But some just aren't listening.
"The administration doesn't see it, doesn't want to help deal with it and something as simple as a Gay Straight Alliance would say to those youths, hey I'm part of the school, I still think they think there aren't any gay kids at their schools," said Lee.