New Sales Tax Increase Funds Public Safety
Posted:
Updated: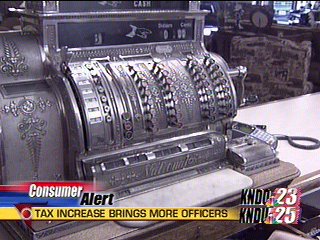 ELLENSBURG, Wash - You'll have to fork over three more cents for every ten dollars you spend starting Monday in Kittitas County. It doesn't sound like much, but it gives the county a lift in public safety.
The increase translates into a million dollars a year for the county. Most people KNDO spoke to Monday say it is a small price to pay for piece of mind.
"I'm for that, I think we need more safety around here," said Marlin Marks, an Ellensburg resident.
Kittitas County stretches from Vantage all the way to Snoqualmie Pass.
"Often times people have to wait hours before we could get there because we are dealing with more serious calls," explained Kittitas County Sheriff Gene Dana.
Growth and the size of the county are just too much for current officers and deputies to cover.
"I've only been over here the last three years and from what I've seen we're pretty shorthanded," said Donn McEwen who was walking into the Ellensburg Fred Meyer.
The county will be able to hire six new sheriff deputies, Ellensburg will bring in six officers, Cle Elum will get two and Kittitas will add one.
Staff at a local furniture store say the increase won't stop people from buying expensive items because their customers have seen the growth of the county.
"When ever your population is increasing we have to support the law enforcement. It will be better in the long term for our county," said Paul Jewell, the Manager of Fitterers Furniture in Ellensburg.
Sheriff Dana says people will notice a difference.
"You'll see patrol cars going by more often, quicker response times when you need a deputy, we'll get there faster and be able to spend more time at investigations," said Sheriff Dana.
Deputies and officers are already being recruited. They are all expected to be on staff in a year.