Parents Line Up Outside School The Night Before Registration
Posted:
Updated: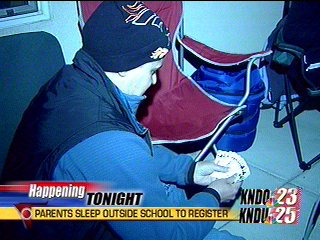 RICHLAND, Wash.-- More than 15 parents are getting ready for a night of camping, well sort of. They're sleeping outside the Children's Garden Montessori School in Richland, to get their kids in this year's first grade class.
"They nominated me to be the first on the list, but really there were three moms that showed up about the same time, at about one o'clock this afternoon," said Elaine Diaz, a mother outside the school.
Throughout the night they say they'll try keeping busy playing cards. But some came prepared in case they need a bathroom break in the middle of the night. One family brought an RV with a bathroom.
"I think we're all going to take advantage of it, we're hoping that we can indeed use it," said Dave Hachigian, a father who came prepared with a toothbrush and water.
These parents already have kids going to pre-school at the school. And the kids seem to like it. We asked some of them what their favorite part about going to school was and here's what they said.
"We get free Wednesdays," said a young boy outside the school.
Their parents say they don't mind sleeping outside as long they can be one of the 12 lucky ones to get on the registration list come the morning.
"I think it's their style of teaching, they basically look at each child as an individual," said Robert Voke, a father sleeping outside the school.
"It's been great for both my kids, and I really want that for next year as well," said Diaz.