Anti-Gang Law Won't Change Much for Yakima Police
Posted:
Updated: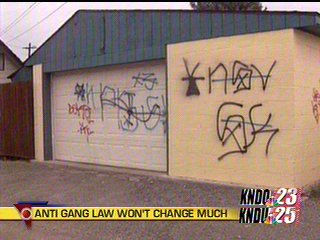 YAKIMA, Wash. -- Even though Governor Gregoire signed the Anti-Gang bill into law this week, Yakima Police say it's just the first step in helping to continue fighting gangs in Washington.
Most of the things the law calls for Yakima Police have been doing since the Gang Encforcement Unit was created in 2004.
The law will help other smaller communities fight gangs, but Yakima Police says unfortunately without funds to back it up, not much will change anywhere.
KNDO spent the afternoon riding along with Sgt. Joe Salinas, head of the Yakima Police Department's Gang Enforcement Unit, to find out what he thought about the Anti-Gang Law.
"Without funding its going to be very difficult to get anything done," said Salinas.
Funding that Sgt. Salinas says is needed to get more officers out on the streets to help fight gangs.
The Anti-Gang law does provide funding for graffiti removal and that's where he fears most of the money will end up going.
Salinas said, "The public just sees graffiti and thinks 'oh it must be gangs'"
He says gangs do mark their territories, but there is a difference between taggers and gang graffiti. Taggers are more artistic and just looking to get their artwork up anywhere they can, which may cause confusion when money from the Anti-Gang law is used to clean-up the graffiti.
Another source of frustration for Salinas was the removal of civil injunctions that some senators feared could be seen as racism.
"It kind of bothered me that lawmakers believe Police would be taking advantage of one particular segment of the population," said Salinas.
He believes every officer in the gang unit knows who the gang members in the community are and in many cases they are of a certain race.
"It's not that we're picking on Hispanics," said Salinas. "It just happens to be that they're the largest group that we're trying to target when it comes to gangs."
While Sgt. Salinas has his problems with the Anti-Gang law, he does believe its going to finally bring communities together to begin discussing reducing gang crime and he hopes then legislators will begin to see what is really needed to begin fighting gangs.
Salinas Stated, "I would encourage some of the lawmakers out there to come along and ride with the gang unit to see some of the things we encounter everyday and what we go through."
If you are interested in seeing for yourself what the gang unit is up against, then you may want to take your own ride along.
Yakima Police welcomes citizens to ride along with the gang unit anytime. Just contact the Yakima Police Department for more details.