Domestic Violence Services in Benton and Franklin Counties Collects Cell Phones
Posted:
Updated: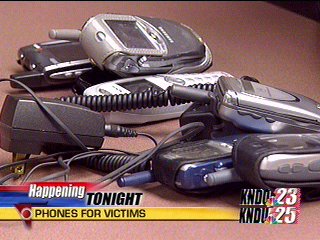 TRI-CITIES, Wash. - Police respond to domestic violence almost daily. The Domestic Violence Services of Benton and Franklin Counties is collecting cell phones to give out to victims.
The collection is in connection with Earth Day. The collected phones will be given to victims or recycled.
Most police agencies in the Tri-Cities have cells phones to give victims of domestic violence. The phones are able to call 9-1-1 in case a victim is in danger of their abuser.
Kennewick Police Cpl. Brian Weatherbee said, "Everyone needs access to 911 especially if they're a victim of domestic violence or victim of any crime and the phones that are donated enable them to call whenever they need it."
Advocates say domestic violence happens more than people realize. Police say many victims don't have access to phones.
Below is information if you are interested in donating a cell phone:
Domestic Violence Services of Benton & Franklin Counties 2008 Earth Day cell phone drive happens April 7 - May 16.
Recycle old cell phones and save our earth from chemical waste.
Cell phones will be cleared of data and donated to victims.
Non-working phones will be recycled.
Funds received from the recycled cell phones will benefit victims served by DVS.
Drop-off sites are in Richland, Pasco, and Kennewick.
Banner Bank 1221 Jadwin Avenue.
Banner Bank 3211 W. Court Street
Domestic Violence Services 124 W. Kennewick Ave
Banner Bank 8203 W. Quinault Ave
New Beginnings Thrift Store 1016 Lee Blvd.
Pasco Police 525 N. 3rd
Kennewick Police 740 S. Dayton
Banner Bank 203 West 1st
Richland Police 871 G-way
Yokes 4905 Road 68
Kennewick Library 1620 South Union
Banner Bank 8200 Gage Blvd.
Bechtel Waste Treatment Plant Project Offices
Pasco Library 1320 W. Hopkins
Kennewick Library 405 South Dayton
Yokes 1410 W. 27th Avenue
Yokes 1401 Bombing Range
West Richland Police Department 805 W. Van Giesen
For additional information, call: 582-9841 to set up a collection site, call: 783-2855