New Details About Child Molestation Allegations Against Yakima Nurse
Posted:
Updated: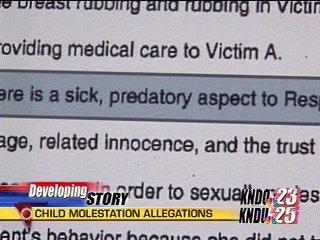 YAKIMA, Wash - Child molestation allegations against a Yakima nurse, 53-year-old Alton Butler, could've involved a family member.
According to a State Department of Health investigation, Butler would tell his victim the sexual acts were a part of a medical exam.
Butler has been suspended from Willow Springs Care nursing home in Yakima after the Department of Health suspended his nursing license. KNDO spoke with his supervisor Friday who was shocked when he saw the details of the allegations.
"Al has been one of those guys we can count on in a pinch and Al has been one of those guys who goes above and beyond for us, so I was pretty surprised," said Randy Hyatt, the Administrator at Willow Springs Care.
The allegations say Butler taught a little girl how to perform sexual acts. According to the victim, the molesting happened for 10 years.
Court documents indicate Butler is in the middle of a divorce filed this year where the allegations are connected to a family member.
"I have been advised by my lawyer not to say anything about the allegations against me, even though I want to speak out and defend myself," Butler writes in a court document.
Leaders at Willow Springs and residents who know Butler personally say they never suspected anything.
"All the residence were sad to get that news, they indicated to me they would like to put together a car to send to Al," said Hyatt.
"'I'm optimistic, I hope this isn't true but I don't know the answer," explained Hyatt.

It is important to note where the location of these allegations happened. They did not happen at Willow Springs Care. The actual location is not being released at this time.
Right now there are no criminal charges. The Yakima Sheriff's Office has carried out an investigation and the case is soon to be reviewed by a prosecutor.