New Rules For Working Outdoors This Summer From the Department of Labor and Industry
Posted:
Updated: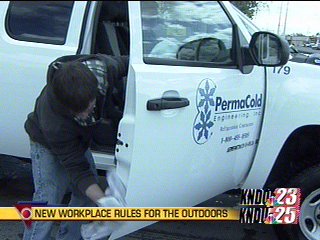 KENNEWICK, Wash.-- The Department of Labor and Industries says they've been working on some new rules for the workplace to prevent heat-related illnesses.
Some of these include updating safety programs and training employees on how to recognize signs and symptoms for heat-stroke. They also want employees to check the weather daily and drink more water.
Being outside in a hot summer day usually means we'll want to get to somewhere cool. But that won't be the case for many people working outdoors this summer.
"It gets really hot, and we have no air conditioning here, you can open the two doors and let some air through," said Jacob Hall, who works at the AutoBahn carwash in Kennewick.
Jacob says he's been working at the carwash for a little over a month and likes his job. And about the heat, well he's already got a plan in mind.
"Yea, just stay hydrated, it gets hot and if you're on the dead heat, you need to drink a lot of water," said Hall.
Another carwash employee says she's not too worried.
"No not really, you just have to put water on your head, that's what I usually do, put water on my hair," said Gasheina Geiger, who also works at the carwash.
But not everyone feels the same way. A carhop at Sonic says she's been thinking about the dangers of working in the sun for quite some time.
"I've been worried about the summer, it's hot inside and outside," said Jessica Harper, a carhop at Sonic in Kennewick.
To put her mind at ease, the Department of Labor and Industries wants employers to work closely with workers, on ways to reduce the risk of heat-stroke or any other heat-related illnesses. And for the most part these workers are in favor.
"Yea, it's good for us to know because we get busy and we can forget, like whoa, we need to care of our bodies," said Harper.
The Department L & I, will be having five public hearing across the state on this issue.
In our area these meetings scheduled for April-30th. In the Tri-Cities it will be held at 2:00 p.m. at the Red Lion Hotel in Richland, and in Yakima it's scheduled for 9:00 a.m. at the Clarion Hotel.
The tentative date for the adoption of the new rules is June 4th.